World
'Spread the Love': Retno Iswari Tranggono counts her blessings
[ad_1]
At the age of 80, cosmetic dermatologist and businesswoman Retno Iswari Tranggono is counting her blessings, whether in the form of what she believes is divine intervention or simple opportunities borne out of happenstance.
The founder of cosmetic company Ristra Group just launched her new biography, Spread the Love: Kilau Mutiara di Ujung Senja (Pearl's Luster at the Tip of Twilight), in Jakarta.
She said the book came out of her wish that, at 80 years old, she back away from her business to embrace God.
Born on Nov. 17, 1939, in Jakarta, she grew up in wartime Indonesia, moving from one city to another as a displaced person along with her family.
She was actually born Ratna Içwari, which means "diamond empress" in the Kawi (Old Javanese) language, before earning her current name at the age of 12, simply because it is much easier to pronounce.
Retno has spoken often of her blessings, even before her birth.
"In 1939, my mother was hospitalized at Budi Kemuliaan Hospital in Tanah Abang [in Central Jakarta]. I was the only one out of six other siblings to be born in a hospital because of my mother's sickness, but thank God, I was able to be saved," she recalled.
Perhaps because of this and her diminutive stature, her siblings used to tease her by saying she was "switched at birth". She often got into fights with her younger sister Titik, but the two were usually quick to make up.
Aside from her birth, Retno recalls many moments in which she felt blessed by God, including several near-death situations.
When she was in sekolah rakyat, as primary schools were called during the Japanese occupation, she saw flyers being thrown out of a car. Retno ran to the middle of the road to pick them up when a speeding truck that was directly behind her managed to break and avoid hitting her. She considers the incident a sort of divine miracle.
Another close call came in 1968, when Retno was a newly hired dermatologist at Cipto Mangankusumo Hospital. As she was heading home using a becak (three-wheeled pedicab), a speeding car crashed into her. She was not injured and continued her trip home on a damaged becak.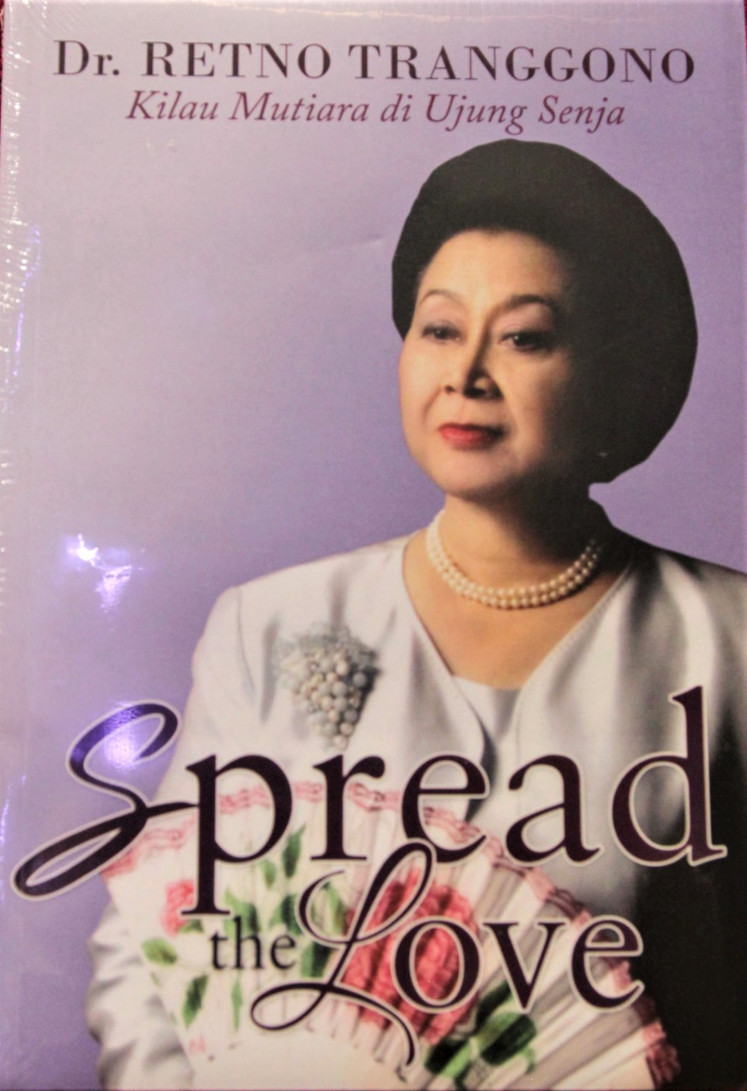 Out now: In her new book, cosmetic dermatologist and businesswoman Retno Iswari Tranggono counts her blessings. (JP/Riand Alfiandy)
For Retno, other blessings in her life came in the form of opportunities.
"Throughout my life, the hand of God has guided me, including in academics. After graduating high school, I was at a loss as to where to continue my education. Had I studied out of town, it would have incurred extra costs."
In the end, Retno enrolled at the University of Indonesia's Faculty of Medicine. Out of 1,500 applicants, only 150 made the list. Not only was she accepted, she received a scholarship from the government.
"Truly, God's grace is real," said Retno, who eventually cofounded the faculty's Cosmetic Dermatology division in 1970.
Retno met her husband Suharto Tranggono through her studies, as he was her senior and a student council member. The two met at a YMCA event in 1960 and, by 1963, they were married.
The couple founded their own cosmetics company, Ristra, in 1983. The name Ristra is a portmanteau of parts of their names, Retno Iswari and Tranggono.
However, Retno's introduction to cosmetics happened much earlier when they were newlyweds.
Then, Tranggono drove a large Russian-made jeep as issued by the Air Force, and the pair ran over a neighbor's bougainvillea tree.
As the two went to apologize, they found out that their neighbor was Bo Tan Tjoa, one of the founders of Viva Cosmetics, the oldest cosmetics brand in Indonesia. Bo Tan Tjoa hired Retno to teach at the Viva Health and Beauty Institute.
Over decades Ristra became a key player in the industry before Retno and Tranggono took a step back and handed the business to another company in 2016. That year, Tranggono passed away from a brain tumor.
One of the most significant events in Retno's life was her colon cancer diagnosis, which was ultimately treated with the help of surgery.
"When we heard the diagnosis, my children were crying, but I was calm. The procedure was done in Singapore, and I soon went home," she said.
However, the cancer returned in the brain later on, as she discovered in a visit to a neurologist after a morning walk. In March 2018, she underwent gamma knife therapy and was declared cancer-free exactly a year after.
After the harrowing experience, she decided to go on a holiday to Japan with her children. They went in March, after the peak bloom of the cherry blossoms.
At that time, she asked God to see the flowers. "Before we went home, we headed to Mount Fuji, and then I saw them. There were two trees still in bloom. God is truly generous in giving me that gift."
Retno said she learned from a young age that her blessings always came from above, noting that she received an inadvertent lesson from her grandmother on the importance of faith.
"I was around 7 years old at that time in Kediri [East Java]. After her prayers, my grandmother used to sing: 'Mantepo siro ing Allah, ati kang demen eling'.
 "The lyric means 'steady your soul to God, the heart that always remembers God'. That phrase has stuck with me to this day, because everything is from God." (ste)
Your premium period will expire in 0 day(s)
close x
Subscribe to get unlimited access
Get 50% off now
Subscribe now
[ad_2]
Source link