World
'Explorations in Research' networking event draws students, faculty, resource offices; attendees form new connections, ideas for immersion | Vanderbilt News
[ad_1]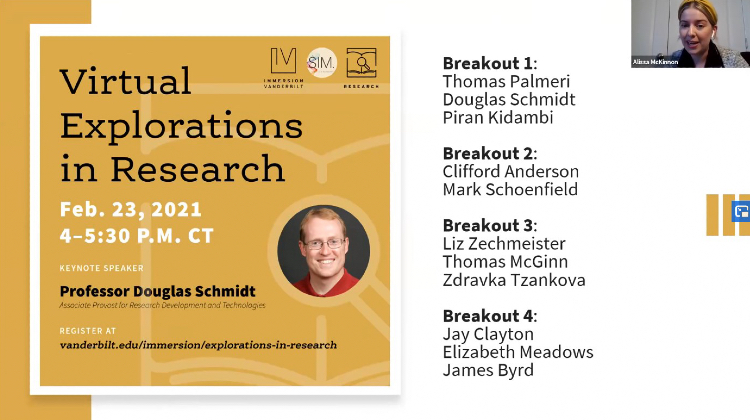 The Office of Immersion Resources (OIR) and the Scientific Immersion and Mentorship (SIM) student organization sponsored the third annual Explorations in Research event Feb. 23, drawing researchers from a variety of disciplines to engage in networking and discovery. This was the first virtual Explorations event. Nearly 70 students and 15 faculty participated in robust conversations while 12 campus offices hosted concurrent Zoom rooms to engage students invested in learning more about resources that support student-faculty collaborations.
"I am glad that SIM was able to cohost Explorations in Research with the OIR and am thrilled with the turnout and quality of the discussions that were had," said Anusha Srivastava ('22), president of SIM. "I look forward to working with them again on the upcoming spring Match Day later this semester."
Associate Provost for Research and Technologies Douglas Schmidt introduced the event with opening remarks, followed by guided discussions in breakout rooms and a networking session at the end for attendees. "A key goal of Vanderbilt's immersion program is to deepen the value of a residential education experience," Schmidt said. "The Explorations in Research event is vital to making that goal tangible and accessible to Vanderbilt undergraduates interested in pursuing immersion projects at the forefront of science, technology and the arts."
Designed with promoting immersion projects in mind, students, faculty and staff discussed research from all disciplines and met with other researchers interested in cross-campus collaboration.
"The Explorations in Research event provides an excellent opportunity for students to learn directly from faculty about research in multiple disciplines," Assistant Provost for Experiential Learning and Associate Dean of Residential Colleges Jill Stratton said. "It sparked ideas and possibilities for students to explore potential immersion projects, and it was inspiring to see how immersion is unfolding for our students and how faculty and students are coming together to collaborate on these exciting projects."
A recording of the event is available on the immersion portal. Students interested in pursuing the research pathway for Immersion Vanderbilt projects should plan to attend these upcoming events that will focus on immersion networking and possibilities:
School of Medicine and Immersion, Monday, March 1, noon–1 p.m.
Current Events and Immersion: Climate Change, Monday, March 2, 2–3 p.m.
Spring Vanderbilt Undergraduate Research Fair, Thursday, March 22 (time to be announced)
SIM Spring Match Day, March or April (date and time to be announced)
For more information on Immersion Vanderbilt, Explorations in Research or any other event, please contact the OIR at [email protected]
[ad_2]
Source link