World
Review: The Pikata Air Omni Lite cuts cord clutter while keeping all your devices charged
[ad_1]
For those who want to keep their devices charged and protected on the go, Pitaka brought two tough-as-nails accessories to the table — the Air Omni Lite charging station and the EZmag Case for the iPad Air and iPad Pro.
Both of the devices being examined today are covered in aramid — a tough synthetic material used in everything from military body armor to sporting goods like hockey sticks. Most people are familiar with at least one type of aramid — Kevlar — which is known for being five times stronger than steel when used at similar weights.
Air Omni Lite design
The Air Omni Lite is a 6-in-1 charger designed to be an ideal desktop or bedside stand accessory. While not a small charging station by any means, its relatively simple design doesn't dominate anywhere you put it, either.
We received the aramid covered charging station, but it's available in a gray cloth or walnut veneer as well.
There's a clever little drawer included on the charging station's side, which Pitaka touts as a secure way to hide items. We're not sure if we agree, as the front of the drawer has "PUSH" written on it.
Still, we find this to be an excellent addition, as it makes a great place to store extra SD cards, loose pieces of jewelry you don't want rattling around in your desk, or other small items that may not have a "home" yet.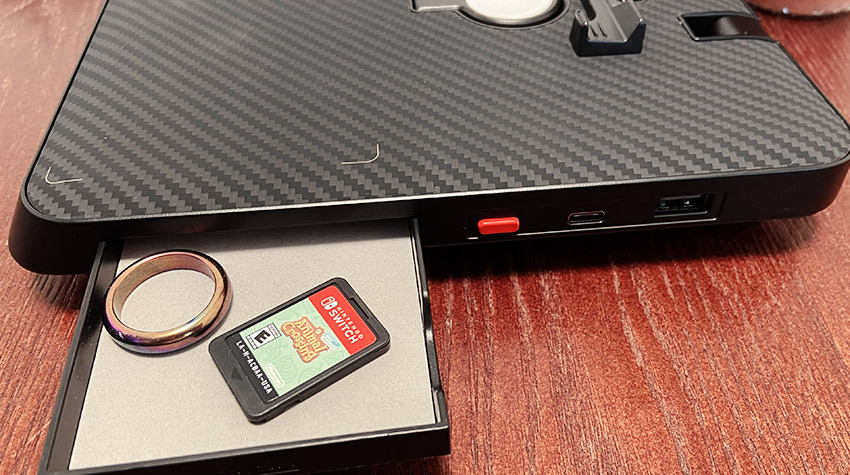 While it's an additional cost, Pitaka does offer a travel case for the Air Omni Lite as well, which is highly recommendable. It's a foam-shell case that keeps your Air Omni Lite and its power cable together neatly and provides additional storage for extra charging cables or other assorted bits you might need.
It is the perfect size to slip into your carry-on or stow in your luggage when traveling, while also preventing debris from getting into the device when tossed in a tech bag or backpack.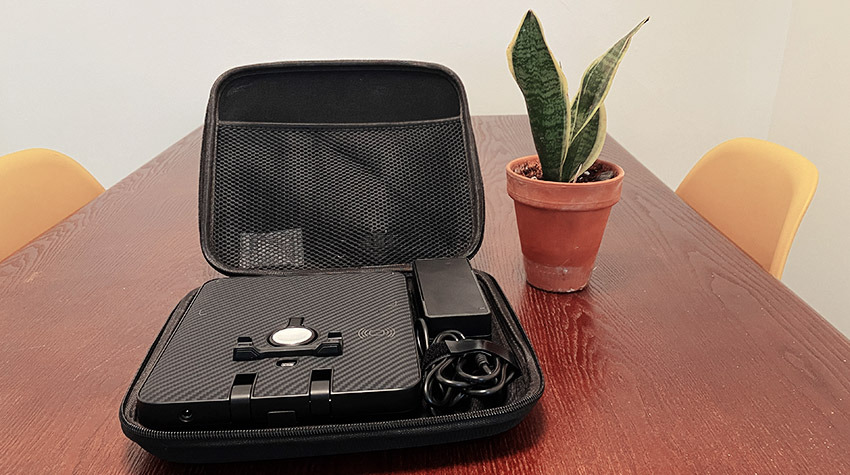 The optional travel case keeps your charging station protected while on the go
Charging your devices
Perhaps the best thing about the Air Omni Lite is that you can charge both USB-C and Lightning devices with minimal effort. At the back of the charging station is a button for switching between a USB-C or Lightning charging adapter.
This makes it great for charging all kinds of devices, including your iPad, iPhone, Apple TV remote, Nintendo Switch, and more. It is rated for 18W fast charging, which is suitable for those times when you want to top up your devices quickly.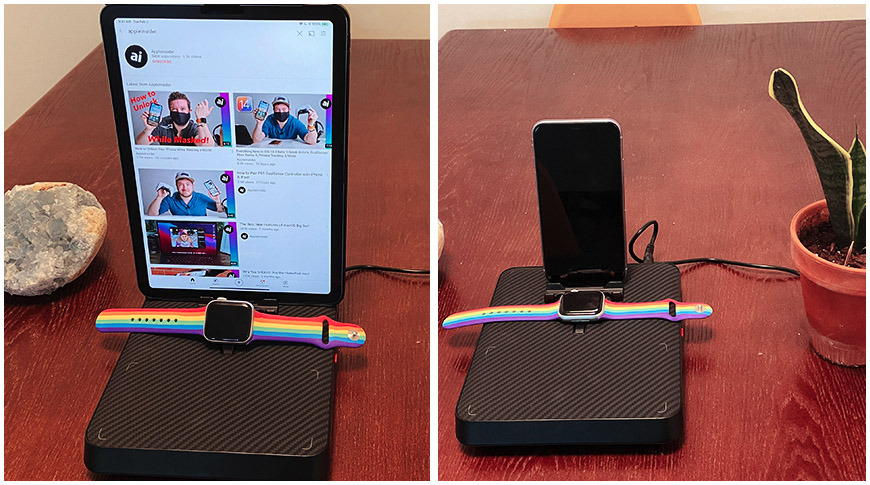 Switching between USB-C and Lightning charging is done with a push of a button
Our biggest concern regarding the Air Omni Lite is that users could inadvertently damage their devices' charging ports, especially large devices like an iPad. The user manual makes it clear that you must attach and remove the device in a particular way to avoid "human damage."
That risk means we cannot recommend that this device be used in high-traffic areas where pets or young children may be prone to bumping it.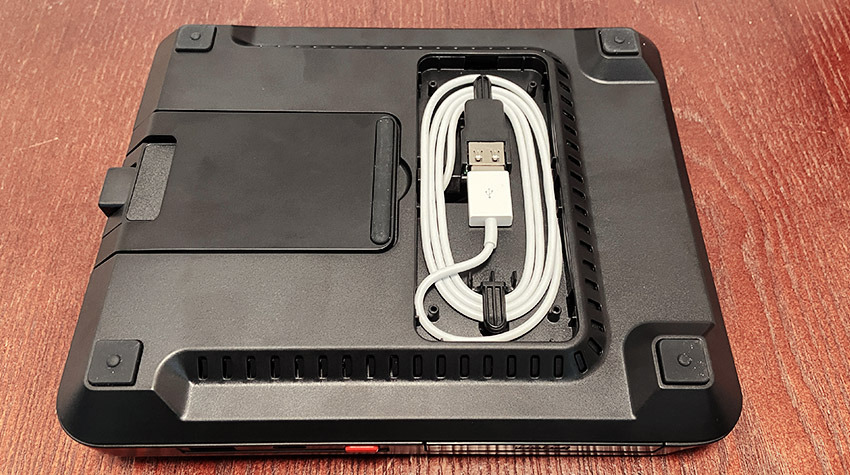 The Air Omni Lite allows a user to utilize their Apple Watch charging puck with less cord clutter
The Air Omni Lite can charge your Apple Watch, too, though this comes with a caveat — you'll have to provide your own charging puck.
Threading the charging puck through the device wasn't particularly fun, and it took us a little bit to get the cord tightly coiled. However, we still appreciate that it gives your Apple Watch a convenient place to live while not on your wrist, and that it cuts down on cord clutter.
The charging puck can be used in both upright and flat positions, and the puck can be raised by using the red button on the right side of the charging station.
There's a Qi-compatible charging pad at the front that allows you to keep your iPhone on hand without needing to worry about connecting or disconnecting any cables. It features three charging coils, which gives it a large "sweet spot," preventing those annoying times when you thought your phone was charging, only to find out it wasn't aligned properly.
There's a second Qi-compatible charging spot to the left of the Apple Watch charging area. This spot can be used to charge AirPods, Powerbeats Pro, Galaxy Buds, or any other Qi-compatible earphones.
If that wasn't enough, there are also two charging ports on the side of the device — one standard 18W USB-A port and one standard 18W USB-C port, allowing you to charge an additional two devices at a time.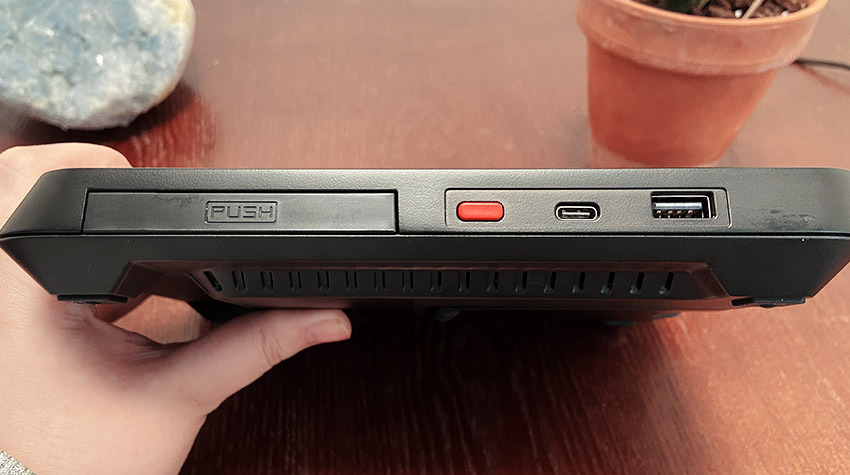 A side view of the charging station, showing the smalls drawer and additional charging ports
All the charging features functioned exactly as we had hoped, though we still do have reservations about using it with hardware like the iPad, as it holds tablets and other similar devices upright by the USB-C port. We suggest that any prospective buyers use their best judgment as to whether or not they can prevent damaging their device charging ports using this method before purchasing it.
Where to buy: Those interested in picking up the Air Omni Lite can head over to Pitaka's site and snag one for $129, or $139 if you choose to get the optional travel case.
Can charge multiple devices at once

Dedicated Apple Watch charging area

Smalls storage drawer a nice touch

Cuts down cord clutter significantly
Vertical docking could cause damage to devices ports

Large size may not fit well into every persons setup
MagEZ Case
We also took a look at Pitaka's MagEZ Case for the 2020 iPad Air. It's an extremely lightweight protective case that is designed to be used in conjunction with Apple's Magic Keyboard, but can be used on its own as well.
This case is primarily designed to protect the back of your iPad from scratches and dings, while still allowing you to use Apple's Magic Keyboard or Keyboard Folio. In this sense, it actually works pretty well.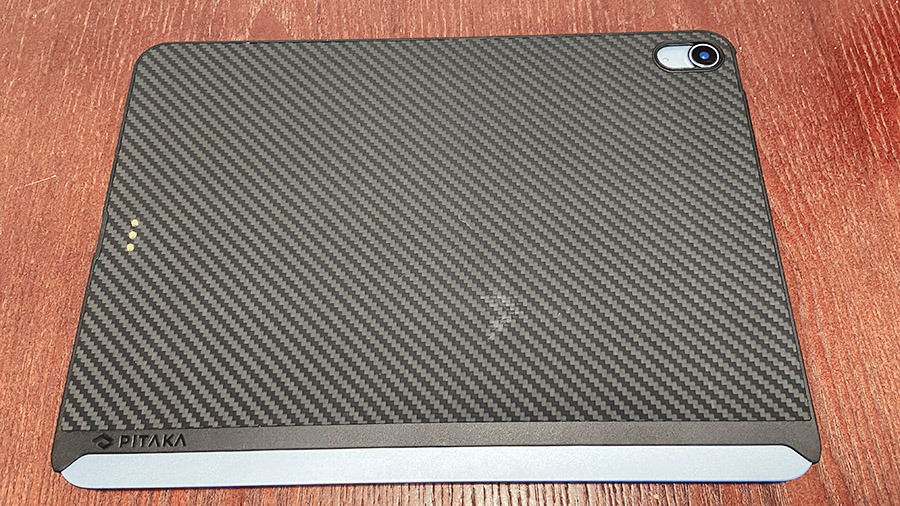 The back of the MagEZ case leaves a substantial portion of your iPad exposed
It's not as effective if you're planning on using your iPad standalone, as not only does the case lack any shock-absorbing materials, but there's also a large portion of your iPad that is completely exposed, and corner reinforcements are minimal. There is also no raised lip around the screen, meaning a face-down drop could be devastating to the iPad's display.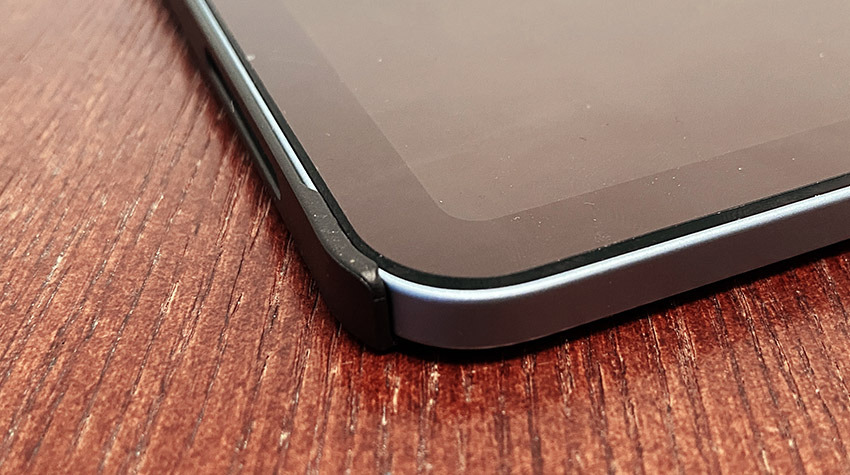 We would have liked to see more corner reinforcement on the case
For these reasons, we don't suggest anyone look to this case for serious drop protection. However, if you're looking for a Magic Keyboard-compatible case to keep your iPad looking at its best, this one may fit the bill.
Compatible with Apple's Magic Keyboard and Smart Keyboard Folio

Tough aramid fiber protects from scratches and dents
Minimal corner protection

Exposed edge leaves iPad open to damage

No shock-absorbtion

No bevel around the screen
[ad_2]
Source link