World
Australia v India: second Test, day two – as it happened | Sport
[ad_1]
02:25
Summary

Scott Heinrich
A day of emergence for India and lost opportunity for Australia. Led by Pat Cummins, the hosts held the upper hand early on when reducing India to 64-3 but from that point on it was all India.
Ajinkya Rahane was magnificent scoring his 12th Test century – and second at the MCG – and it's unlikely he's registered one as important. The stand-in skipper rode his luck – Rahane was dropped twice among four dropped catches for the day – and made Australia pay with a sublime, assured offering that isn't done with yet. After India's early losses, the middle-order hunted in pairs with Hanuma Vihari, Rishabh Pant and Ravindra Jadeja each combining with their skipper for meaningful partnerships. Rahane's current stand with Jadeja is worth 104, with India's lead stretching out to 82.
With five wickets still in hand, this is an excellent response to the nightmare of Adelaide and India are primed to strike back after their humiliating defeat in the first Test. Australia had a day to forget in the field. The quartet of dropped catches (to make five for the innings) let India off at critical moments while the pace attack that was so lethal in Adelaide remarkably failed to take a wicket under heavy skies with the second new ball. Australia need to muster a response of their own on day three.
Thanks for your company today. Let's do it all again tomorrow.
02:05
Stumps – India 277-5 (lead by 82 runs)
And that is indeed it for the day. Advantage India. After their wretched batting performance in the first Test, they are in the box seat to draw level in this series. Australia's fielding, however, is aiding their cause.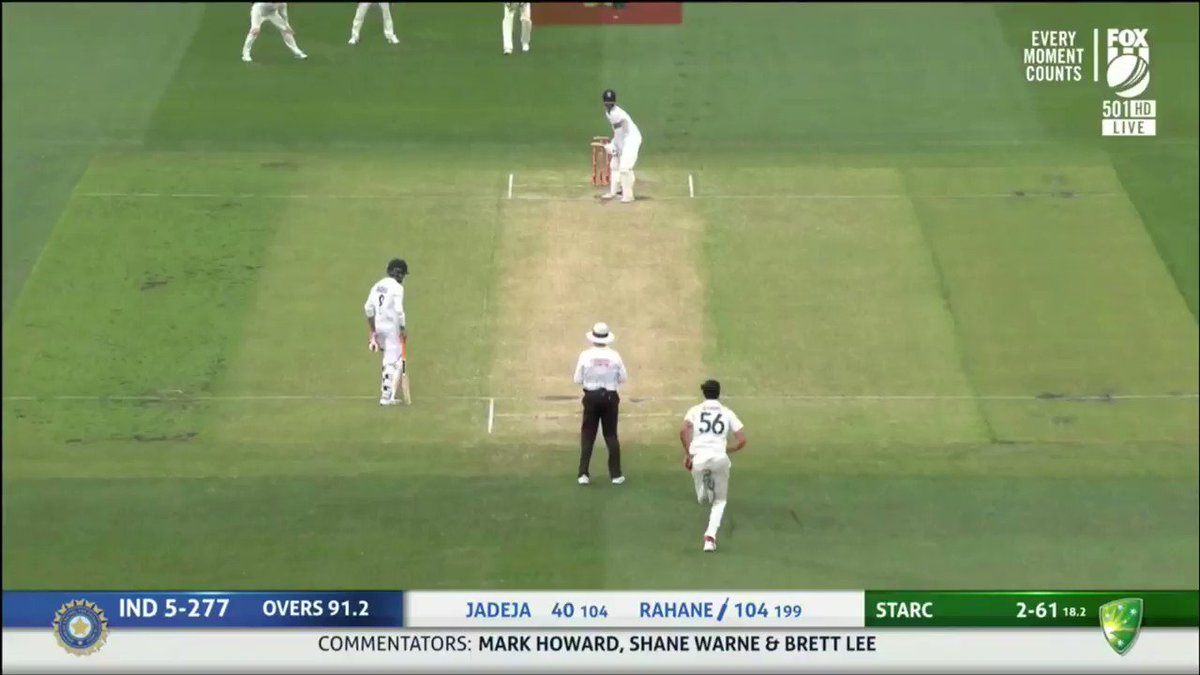 02:00
92nd over: India 277-5 (Rahane 104, Jadeja 40) Paine is really chasing this breakthrough. Now Lyon is rested with Starc brought back. And another dropped catch! Rahane gets a big leading edge that ricochets off his helmet and looks gone for all money as Labuschagne runs in from gully and Head from point. The latter looks to have taken a diving catch but as he hits the deck the ball pops out. That's four dropped catches today, five for the innings. And now the covers are on. Players are walking off. Might be done for the day.
01:55
91st over: India 276-5 (Rahane 104, Jadeja 39) And now Green returns. His second, third and fourth deliveries are so wide outside off they couldn't be hit if Jadeja tried. A straight one finally follows but it's so short that Jadeja leaves it on height. Australia have squandered this new ball, have hardly make India play at it. Two from the over. Ho-hum.
Over to Colum Fordham: "Naples calling. Was debating whether to get up early this morning to catch the last hour of the match as the last time I did it was a horror show and India had floundered to 36-9 and the match virtually over. Today much more interesting and delighted to see Rahane has made a ton. I love watching Jadeja play. His superb catch yesterday seems to prove the exception to Sohid Ahmed's rule and I hope he reaches fifty so we can see him celebrating in style. One hand one bounce eh? Cheeky. Maybe for Smith."
01:50
90th over: India 274-5 (Rahane 104, Jadeja 38) Lyon on now. Quite remarkable. The pace attack that skittled India for 36 in Adelaide have failed to take a wicket with the second new ball. A single from the over. Don't look like getting out, these two.
01:46
89th over: India 273-5 (Rahane 104, Jadeja 37) Hazlewood around the wicket to Jadeja. It's windy right now and there are smiles all round as a small plastic bad swept across the pitch just as Hazlewood was into his action. Not sure Jadeja would have been smiling if he'd been castled. Rahane then gets on strike and he's pretty much doing as he very well pleases now, this time helping himself to a cover drive for four.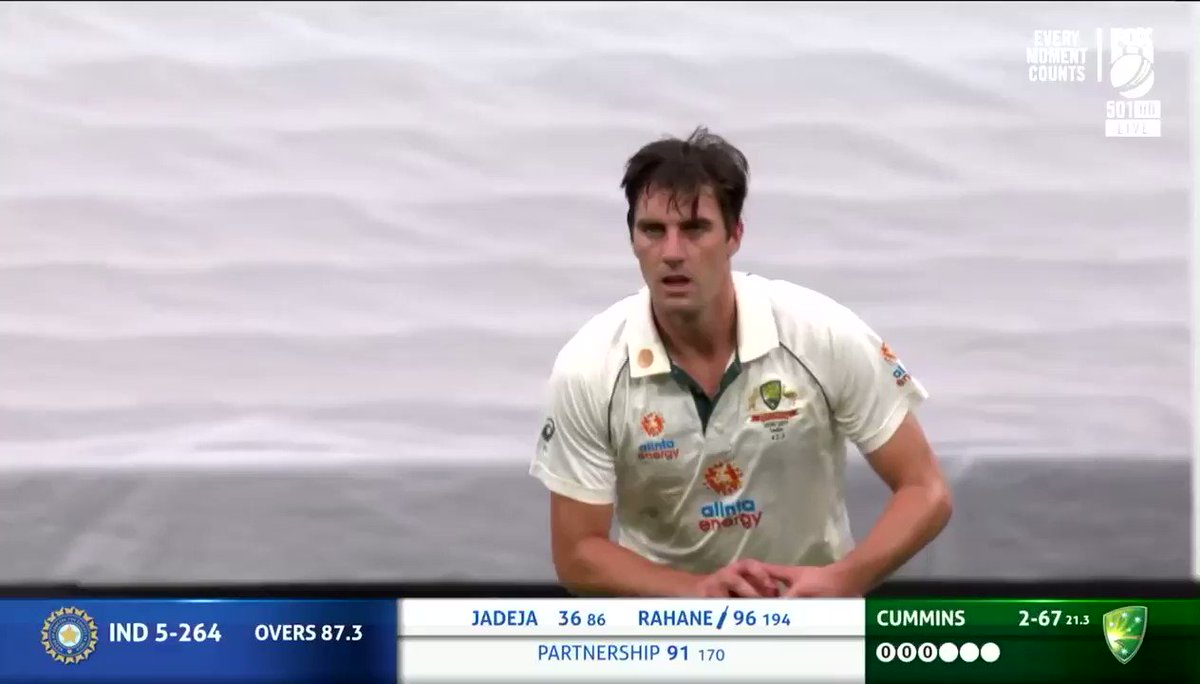 01:40
Rahane century!
88th over: India 268-5 (Rahane 100, Jadeja 36) Now Cummins zeroes in on Rahane's pads and that's much more like it. Rahane plays and misses but height is again an issue. But the India skipper then gets a gift from Cummins – wide outside off stump – to move to triple figures with a cut shot that speeds to the fence. One hundred not out off 195 balls. His 12th Test century. Take a bow, Ajinkya. A (stand-in) captain's knock.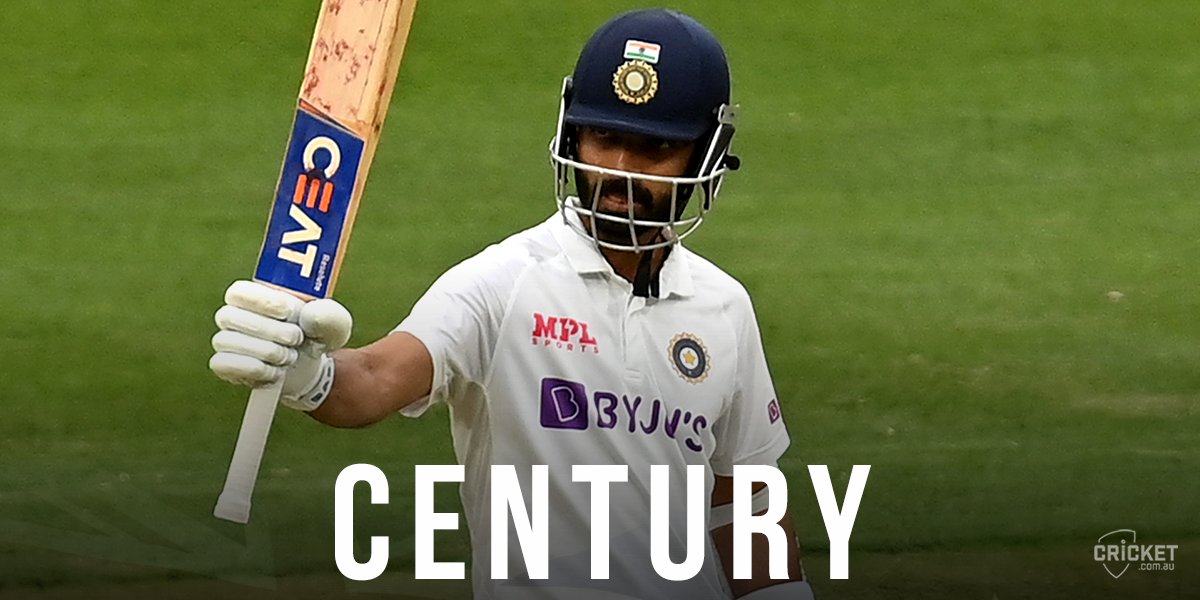 01:32
87th over: India 264-5 (Rahane 96, Jadeja 36) Straighter, and better, from Hazlewood, who draws a false shot from Rahane and raps him on the pads. No lbw chance, however. The India skipper then picks up three forward of midwicket to move to 96.
Sohid Ahmed has an interesting take on these dropped catches: "I cannot believe the number of catches that have been dropped in this series by players who are generally considered to have the safest pair of hands in the game. We saw it with Virat, Steve Smith, etc. It seems to be the new normal now. They will need to start having strategies that factor in a certain number of dropped catches."
One hand, one bounce?
01:28
86th over: India 261-5 (Rahane 93, Jadeja 36) Cummins continues. Rahane drives sweetly but straight to mid-off before hooking forward of square for two. Yes there has been a dropped catch, but not sure Australia's quicks have got their tactics right with the new ball. Rahane is into the not-so-nervous 90s.
01:23
85th over: India 256-5 (Rahane 89, Jadeja 35) Hazlewood replaces Starc. Not a great first over back, either too short or too wide. Two runs for Jadeja through midwicket is all there is to report.
Here's that Rahane drive off Cummins. Nice blow.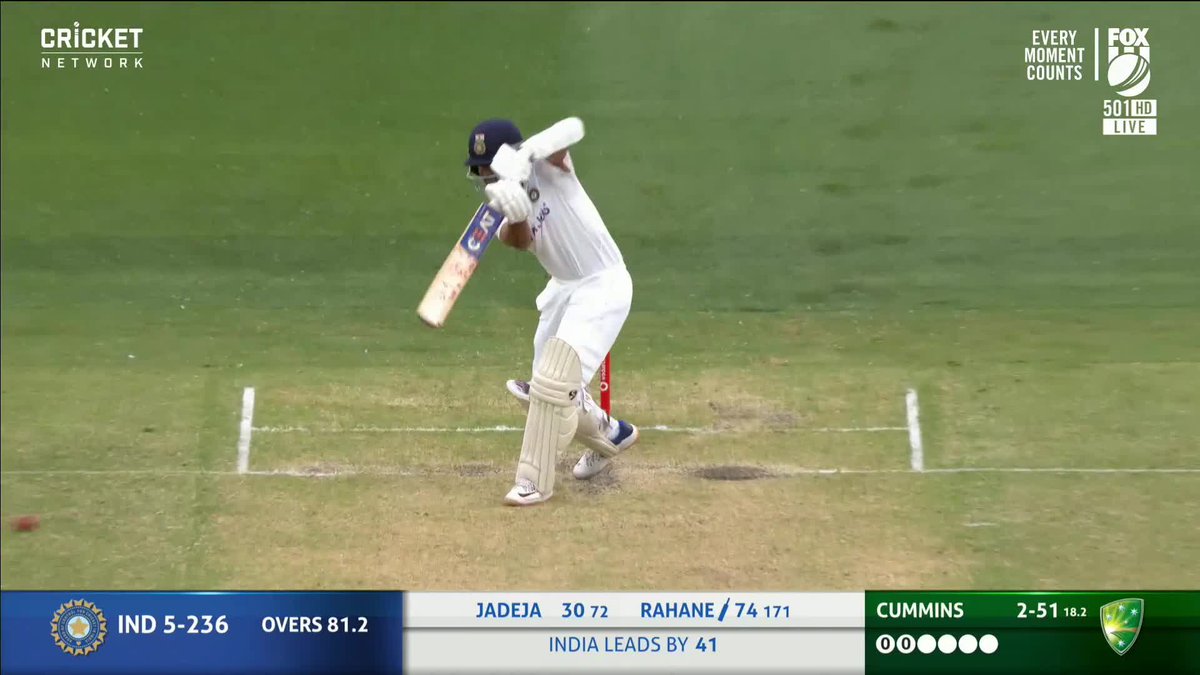 01:19
84th over: India 254-5 (Rahane 89, Jadeja 33) Cummins continues as Hazlewood warms up in the deep. The paceman traps Jadeja on the crease and goes up for an lbw appeal that's worth a shout, but height was always the concern. No review. Head then gets some sort of marginal chance at short-leg but the ball was past him before he knew it. The current partnership is worth 81 runs. India lead by 59.
01:15
83rd over: India 251-5 (Rahane 88, Jadeja 31) These two are playing their shots to the new ball. And why not? Beats playing to survive and then getting out. A quick single hands the strike to Rahane, who picks up two to fine-leg before swinging very hard at one from Starc outside off but missing. A horrid delivery to end the over – short and very wide – is clunked high into the sky over backward point for four.
01:10
82nd over: India 244-5 (Rahane 82, Jadeja 30) Cummins from the other end. Three slips and a gully. Dark skies. Lights on. Should be fertile ground for taking wickets so long as Australia can trouser their chances. And it's nice and full from Cummins but Rahane is seeing them big. He steps into one and drives to the fence before playing a near-identical shot that he doesn't get quite as much of but still picks up two. Rahane then gets onto the back foot and punches forward of point for two more. Labuschagne's returns from the deep aren't clean into the gloves and he gets the thousand-yard stare from Paine. Gotta keep the new rock new, young man. Eight from the over. Excellent batting.
01:02
81st over: India 236-5 (Rahane 74, Jadeja 30) Starc replaces Green and the new ball is taken immediately. And doesn't the new cherry come off the bat nicely?! First ball of the over, Jadeja clips Starc off his pads for three through midwicket. Dropped catch! Rahane goes after one wide outside off-stump but Smith makes an absolute meal of it at head height, spilling the chance at second slip. It did go to him very quickly, but a chance it was. That's three dropped catches this innings, plus one that flew between keeper and second slip (when no first slip was in place). Could be a match-defining state of affairs. Time for drinks.
Way to fetch the new ball.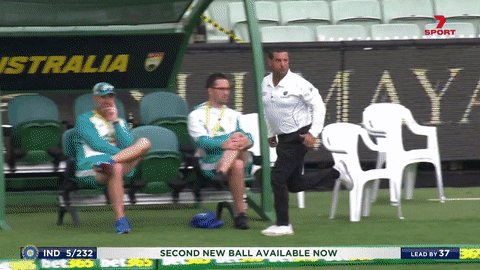 Updated

00:54
80th over: India 232-5 (Rahane 73, Jadeja 27) Three runs for Jadeja off Lyon and it's another nice shot that races through the covers. Four from the over and that, ladies and gentlemen, might be it for this ball.
00:52
79th over: India 228-5 (Rahane 72, Jadeja 24) Great shot for no runs as Rahane middles a cover drive straight to the fielder. Green then drops one in short and it piques the interest of the India captain, who rolls his wrists and hooks down to fine-leg for one. Two really good shots for one measly run. Cricket can be cruel. Jadeja collects two through midwicket to end the over. Will Paine take the new ball straight away? And to whom will he hand it – Starc and Hazlewood or Starc and Cummins? Or Smith and Labuschagne? Sorry, I don't have the answers. Just the questions.
Updated

00:47
78th over: India 225-5 (Rahane 71, Jadeja 22) Jadeja nurdles to point and wants a single, wants it bad, but Rahane is having none of it. Blimey, Jadeja was almost halfway down the pitch before retreating. And he made it home with ease. Methinks there was a run there. A maiden ensues. Two overs and the new ball is due.
00:44
77th over: India 225-5 (Rahane 71, Jadeja 22) More movement in the air for Green but he can't make the breakthrough. Just a single from the over.
Time to hand the mic over to Pratik Dubey: "Some guys need that extra pressure to make them perform a notch higher and Rahane for me fits right in that bracket. This is around the time when Rahane usually gets out after a good looking fifty. Another hour and we would know if my theory holds any weight."
00:40
76th over: India 224-5 (Rahane 71, Jadeja 21) Immense turn, and a fair bit of bounce, from Lyon sees Jadeja swing and miss by some distance. Paine likes it. Later in the over, Lyon does well to gather from his own bowling but he's not happy with Jadeja for some reason. Maybe he tripped on the non-striker's bat?
00:36
75th over: India 223-5 (Rahane 71, Jadeja 20) Green is too short, too wide and that's easy runs for Jadeja, who spanks it backward of point for four more. A single then brings up the fifty partnership for these two. And what an important union it is becoming for India. From 64-3, the middle-order is doing a very good job for the tourists. A swing and a miss from Rahane completes the over. India lead by 28 runs.
00:32
74th over: India 218-5 (Rahane 71, Jadeja 15) Lyon continues with a ball whose condition belies its age. Good leave from Jadeja! They're all good when they miss the stumps. I think he was expecting more turn on that one. Three singles from the over.
00:28
73rd over: India 215-5 (Rahane 70, Jadeja 13) Green returns and he instantly gets plenty of shape on the ball, coming into the left-handed Jadeja from over the wicket. Just one slip in place, again, but Green's line isn't great and he hardly makes Jadeja play at one, save for the last delivery of the over that brings a single behind square.
Onya, Ric, You're always good for gems like these.
00:24
72nd over: India 214-5 (Rahane 70, Jadeja 12) Lyon indeed. His loosener is a little too loose and Rahane moves his feet nicely to beat the cover fielder for two. Even better footwork later in the over sees Rahane meet the pitch of the ball before collecting four runs past mid-off. Nice shot.
Here's that Rahane let-off from a few overs ago.
00:20
71st over: India 208-5 (Rahane 64, Jadeja 12) Wade has been off the field for a couple of overs – not sure why – but he looks close to returning. Hazlewood v Jadeja etches its latest chapter, this time the bowler from around the wicket, but Jadeja maintains his self-control with the catching fielders in place. Another maiden. Nine overs before the new ball is due. Lyon anyone?
00:16
70th over: India 208-5 (Rahane 64, Jadeja 12) A fair bit happening for Starc, who's getting good lateral movement with the old ball. Rahane has his eye in, however, keeping out the good balls and scoring off the loose ones – including a deft cut forward of point for two runs.
00:13
69th over: India 206-5 (Rahane 62, Jadeja 12) Hazlewood again. AB is making a good point on the telly regarding unconventional fielding positions. Predictably, Herr Border is not a fan. Give him two slips and gully every day of the week. The short square returns for Jadeja, again with two slips in place. But Hazlewood's radar is a little off and the over passes with no threat to the batsman, who keeps the score ticking over with three runs past point.
00:08
68th over: India 202-5 (Rahane 61, Jadeja 9) Absolute beauty from Starc beats Rahane's outside edge and whistles past the off-stump. Deadly length, moves off the seam across the right-hander. Some deliveries are simply too good to get a wicket. And, oh my lord, Rahane should be gone later in the over as he gets a big edge that goes right through the gap, at catching height, between keeper and slip. And it was some gap, Smith standing closer to second slip than first.
00:02
67th over: India 198-5 (Rahane 57, Jadeja 9) Hazlewood over the wicket to Jadeja with a short square in place. Also two slip fielders so what is he trying to do – bounce him out or get the edge? I guess that, and other such ponderances, form the rich tapestry of Test cricket. There is some short stuff in the over but Jadeja doesn't care for it. Maiden.
It's over to Matt Winter: "In another milestone on what has been a day of them, have just heard my 500th tedious discussion about bad light on Test Match Special."
We've all been there, Matt. Hang in there.
23:58
66th over: India 198-5 (Rahane 57, Jadeja 9) Lovely, soft hands from Rahane picks up a boundary steered between slip and gully. Not a bad ball from Starc – in fact, it was a very good one across the right-hander – but that was just a beautifully controlled shot. One slides down leg later in the over and Paine is interested but Rahane got nowhere near it. India lead by three runs.
23:54
65th over: India 193-5 (Rahane 53, Jadeja 8) Hazlewood returns to roll his arm over for the first time in a while. There's been a fair bit of bounce in this pitch but he manages to get one to keep very low to Jadeja, who manages to get his bat down in time. Good thing for him – had it hit his pads he might have been in strife. A short one later in the over is hooked confidently by Jadeja but good fielding by Starc at fine-leg keeps the shot to one run.
In answer to the question below, we just are.
23:48
64th over: India 192-5 (Rahane 53, Jadeja 7) Starc completes his rain-interrupted over, with two dot balls preceding a muscular pull shot from Jadeja that clears midwicket for three runs. Nice shot.
23:34
Good news: the rain has stopped, the covers are off and play will resume at 3.45pm local time.
23:22
Something here from Eamonn Maloney to chew over during the interval:



As Geoff Lawson knows too well, rash predictions tend to follow pundits around. We laymen are under no such constraints, so I'd like to say that in Green we are looking at the new Watto not the new Botham. Too early to say at 21? No, I submit.
23:20
Tea – India 189-5 (trail by six runs)
An engrossing session with 99 runs scored for the loss of two wickets. India are now one lusty blow away from parity and they made good inroads in the afternoon on the back of Rahane and Pant, the latter making a brisk 29 before falling to Starc. Australia will want to do away with Rahane soon after tea if they are to minimise their likely deficit on first-innings scores. See you in a few moments. Hopefully the rain will abate sooner rather than later.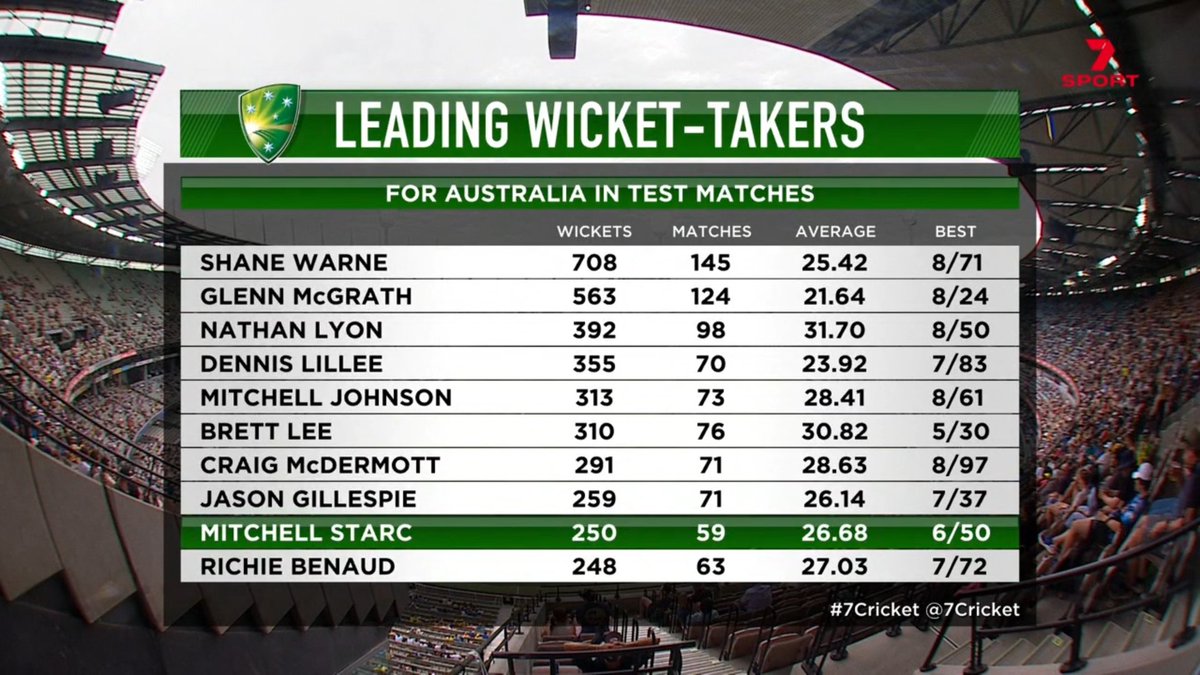 23:13
64th over: India 189-5 (Rahane 53, Jadeja 4) Starc to bowl the last over before tea. More wild and woolly stuff from the fast bowler, who drops one in short and the result is again four byes with neither batsman nor keeper any hope of getting near the ball. And as the heavens open the decision is taken to go to tea three deliveries into the over.
Updated

23:09
63rd over: India 185-5 (Rahane 53, Jadeja 4) A little bit of movement in the air from Cummins, who keeps Rahane on his toes with one that swings into the right hander. One from the over. Looks like there is some rain on the way. It can pour as it likes after 6pm.
23:06
62nd over: India 184-5 (Rahane 53, Jadeja 3) Rahane half-century! Starc overpitches onto Rahane's pads and is flicked to the fine-leg fence. That shot registers the first fifty of the match and a lovely, measured innings it has hitherto been. He's no Virat Kohli but he doesn't need to be. He a very good Ajinkya Rahane. Starc's radar deserts him again later in the over as not even Paine can get near a wide one down leg that races away for four byes.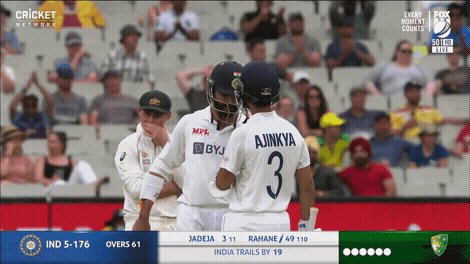 23:00
61st over: India 176-5 (Rahane 49, Jadeja 3) The Green experiment comes to an end – was Paine listening to Warnie, perchance?! – as Cummins returns to the attack. And it's a brisk, probing over from the fast bowler, who reverts to over the wicket in a maiden over to Jadeja.
Kudos to Starc, as mentioned below, but Paine can also take a bow. He does very little wrong, does the Aussie skipper. And, seriously, how good was his catch this morning?
22:56
WICKET! Pant c Paine b Starc 29 (India 173-5)
60th over: India 176-5 (Rahane 49, Jadeja 3)
That's the breakthrough Australia needed. Pant has certainly played his shots today but this one was a little too loose, flashing hard at one from Starc outside off and edging to the keeper. That's Starc's 250th Test wicket and Paine's 150th Test dismissal. Starc sits in ninth spot on the Australia Test wicket-takers' list, nestled snugly between Jason Gillespie and Richie Benaud. Jadeja gets off the mark with a drive down the ground for three to conclude the over.


[ad_2]
Source link